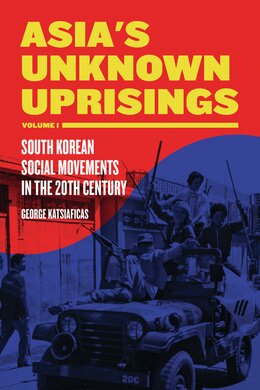 A pair of books that came out earlier this year and are worthy of your time for coverage of often forgotten struggles are Asia's Unknown Uprisings Volume 1: South Korean Social Movements in the 20th Century and Asia's Unknown Uprisings Volume 2: People Power in the Philippines, Burma, Tibet, China, Taiwan, Bangladesh, Nepal, Thailand and Indonesia 1947–2009 by George Katsiaficas (PM Press, 2012).
Sociologist Katsiaficas collected research for the two volumes on social movements in Asia over a ten-year span. Volume 1 is an exhaustive 400-page-plus investigation of South Korean radical tendencies, while Volume 2 devotes as many page to a swath of countries, which oftentimes had tendencies which shared ideals. The author is best known for ideas such as the Eros Effect, though these massive works should ideally make him known for something much more critical.
You might ask why a single country is profiled In one volume. A scan of Asia's Unknown Uprisings reveals little insight here, but the book itself is colorful and engrossing. The depth of history Katsiaficas writes about is truly outstanding, as he shares the experiences of radicals, socialists and reformers to shift a nation in which racial, ethnic, class and gender disparities festered for generations. It is apparent that this is not a story in which the oppressive Third World country valorizes the United States, but rather one where a single Asian country is not unlike many countries which ignores the oppressed in its own borders and critical mass is reached.
Volume 2, covering Burma, Tibet, Taiwan, Thailand, Nepal, China and other countries, tells a series of stories many may already be familiar with. Many books have been written about China's history, Tibet's tensions and the dozens of Indonesian battles. Katsiaficas brings readers a nuanced eye, with a strong focus on empirical research and data.
Both volumes of Asia's Unknown Uprisings have received many good reviews, and those interested in Asian struggles may be interested in Katsiaficas' scholarship.